Go to Japanese page | Return to a main page
BillBill Ver.0.7
5/7/2005 by Shigeyuki Seko
This program calculate for a check.
---


BillBill Ver.0.7 Release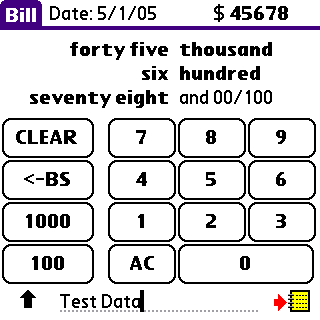 BillBill is the application for PalmOS used when using a check.
This application is converted as follows.
$1234
Twelve hundred thirty four and 00/100
<Freeware>
Features
Freeware
It is automatically changed only by inputting total amount by a number key.
Installing
Using
1) Please make the tap of the icon of BillBill. BillBill starts.

2) It inputs using the keyboard or Graffiti on a screen. Input of total amount displays a conversion result on real time.

3) 100 or 1000 is chosen. It is converted at the same time it chooses from a list, and a result is displayed.

The destination of a check is inputted into this column. This destination is stuck with the date total amount, when writing out a result to a memo pad. Therefore, if it is not necessary to write out a result to a memo pad, it is not necessary to enter.

If this button is pushed, a result will be stuck on a clipboard and will change to a memo pad. If a station to stick a memo pad on is opened and pasted, a result will be stuck as follows.
The name of each part .
1) Date.
2) Total-amount display.
3) Conversion result display.
4) The clearing of total amount.
5) Only the single digit of total amount is canceled.
6) Priority module selection (are they a $1000 module or a $100 module?)
7) The keypad for input.
8) The field for memo pad output.
9) Memo pad output button.
Menu

About : A version etc. is displayed.
Clear : The clearing of total amount.
History
Version 0.7 PalmOS5 is supported. High resolution mode is supported. (5/7/2005)
Version 0.6 The function which outputs a result to a memo pad is added. (1/10/2001)
Version 0.5 A keyboard is added. Real-time conversion functional addendum .(12/20/1999)
Version 0.1 First Release
Disclaimer
Copyright (C) 2001-2005 by Shigeyuki Seko all right reserved.

THIS SOFTWARE IS ``AS IS'' AND NO WARRANTY.
---
Go to Japanese page | Return to a main page